While Divum has always been domain agnostic, team has delivered successful global products across multiple domains.
However, as Retail industry witnessed massive digital transformation and technology disruption, we had the opportunity to build a relatively higher number of e-Commerce implementations for different e-Commerce business models compared to other domains.
Right from business models ranging from one-time online ordering, recurring ordering, subscription based ordering, membership based ordering to tracking/achieving unit economics, Divum team has built a strong understanding on e-Commerce dynamics and know systems that is required to run a successful e-Commerce business. Apart of building the technology, another aspect is that we have enabled a number of our customers in e-Commerce getting their e-Commerce analytics right, as it is very different from usual user behaviour analytics.
Following are some of the marquee e-Commerce implementations:
BigBasket - Progressive Web App implementation
Melorra e-Commerce platform
Burger King e-commerce platform
Terraa
Namdhari Fresh
Amazon Udaan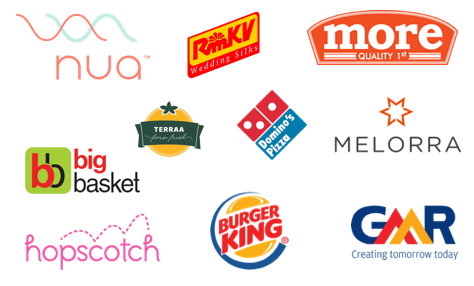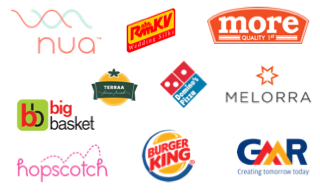 AR based visualization and analytics support
Custom Analytics and Retargeting SDK for Hindustan Unilever Ltd. for integration with their existing mobile applications.
Developed a custom feature called as 'Lakme Studio', which is a content feature, based on the app analytics the content becomes adaptive, which makes the content section personalized for the user.
5 million+ downloads achieved post release with increase in returning user rate resulting in a higher brand loyalty and focused customer reach.
Progressive Web App implementation
This was one of the first few PWA implementations in the country. When Google bought out Progressive Web App, BigBasket intended to implement PWA for its mobile site.
Google recommended the Divum team to build the PWA for BigBasket. Post implementation, BigBasket reported an increase in conversions (order placement) on the mobile site.
Omni-channel Commerce on WhatsApp
OVERVIEW
More Retail is currently using WhatsApp-based portal ordering in Vizag and Bangalore (pilots have recently started).
The Divum team has reviewed the current BillEasy System and spoken to multiple stakeholders. Current focus is to launch a new Home Delivery Portal guided by best practices in UX and technology to improve the overall stickiness of the portal.
Outcome
Launch an intuitive WhatsApp based Home Delivery Portal Mobile Site using an Agile process and keep supporting/updating it incrementally based on ground feedback. Future updates will also be aligned with overall roadmap of MORE Retail Omnichannel Application.
Deploy it across MORE Retail stores in India.
Enhance the WhatsApp chatbot experience.
Samsung e-Commerce platform
Divum team involved in design and development of a mobile responsive web app for Samsung India's e-commerce platform in India.
As a Google partner, Divum also helped implementing the e-commerce web app as a Progressive Web App (PWA is a framework developed by Google for web apps to offer a smooth experience like a mobile app irrespective of network conditions and mobile device).
Omni-channel platform for a leading restaurant chain
Burger King India, the requirement was to architect and build the following app solutions for Burger King:
Android based customer facing Burger King App.

OS based customer facing Burger King App.

PWA customer facing mobile site.

Desktop centric customer facing Desktop Website.
Apart from Order placement and Delivery fulfillment, the app solutions are intended to offer a range of customer engagement and loyalty centric features like offers, gamification, loyalty programs, contextual notifications, contextual experiences and 3rd party systems integration like Zomato, Swiggy, etc.
Nutrition and Meal management platform for Schools
Yacob digital platform that provides parents with healthier food choices for their children. As well as helping parents understand the effects and impacts of those choices.
PWA customer facing mobile site.

Desktop centric customer facing Desktop Website.
Apart from Order placement and Delivery fulfillment, the app solutions are intended to offer a range of customer engagement along with vendors and schools.
Subscription based eCommerce platform
Terraa Farm Fresh is an end-to-end product which focuses on building a sustainable farm-to-fork business through application of deep-technology and go-to-market strategies.
The solution involves a highly customisable subscription based business model with fully automated order management system, indent prediction to avoid wastage and proprietary route optimisation last mile algorithm.
e-Commerce and Operations management platform
RmKV is one of the leading premium traditional silk sarees brands. Divum team helped design and develop their e-commerce platform to support their customers internationally.
Divum team involved in end to end design and development of their web shopping platform, Admin/Operations panel and all required backend systems.
UX/Visual designs revamp for Restaurant Chain's online platform
Dominos.co.in is a very popular food portal in India with thousands of users ordering pizza through its website.
The initial version of the website had to be revamped and made sure the new designs leverages the concept of flat design/ material design and stands bold and easy for customers to use.
As a result we created a flat responsive design for Dominos which offers a much better user experience.
Product/Design consulting for Namdhari's Fresh
Divum team did extensive UI/UX design consulting for Namdhari Fresh's new initiative Simpli Namdhari. The team intended to launch a digital platform catering to their customers across 4 channels/fulfillment experience.
Engagement involved detailed study of users, store operations, user persona and their preferences, identification of pain points and user journey derivation across following channels/fulfillment experience.
Assisted Omnichannel Shopping Network
Amazon.in appoints offline associates across retail points like kirana stores, medical stores and mobile shopping outlets and provides them an Android Tablet based Kiosk.
The retail store owners are trained to help customers find and buy products of their choice, while earning a commission in the process. Amazon.in then delivers the products to the customer's doorsteps or to the partner store and they pay in cash while receiving the packages.
Divum helped Amazon.in with the design and development of Project Udaan with its backend development, Android Tab App design and Development of the Android Tab App.
Point of Sale system for Retailers
Snapbizz is a Point of Sale Product deployed in Retail stores. Store owner can manage inventory, update catalog and also bill the customers and their accounts.
Shop owners can also promote products on TVs connected via a cast experience through the android kiosk.
Divum team architected and engineered a scalable backend system for Snapbizz network for retailers along with a web based POS system for retailers to:
manage inventory.
record sales.
update product catalog.
manage customer information.
Tech Stack :
Backend: Ruby, Frame work: Rails, Data base: Postgres.
Point of Sale system for Pharma Retailers
Divum team helped in design and development of:
Android app for Pharma Retailer.
iOS app for Pharma Retailer.
Web Portal for Distributors to publish their products/offers to Pharma Retailers.
Corresponding Backend systems and integration with existing platform modules.
The app solution enabled Pharma retailers in:
Managing customer profile creation and management.
Record sales digitally on the app.
Get Offers / Reminders from distributors.
View best deals from different distributors & place order.
Record Income & Expenses.
Enable retailers to push targeted notifications / promotions to their regular customers.